Industrial Process Regulation Instrumentation Sales and Manufacturing
Home
> News > Precision Vacuum Regulator
News
March 2020
Precision Vacuum Regulator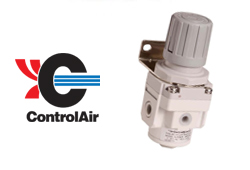 The new Type 480V Precision Vacuum Regulator provides precise control up to full vacuum. The unit is designed with a push type locking knob which allows for smooth output adjustment and the ability to lock in your setpoint to avoid unintentional adjustments.
The Type 480V senses output pressure deviations to within 1/2" water column pressure. Regulating range is from 0 to 30 in.Hg (-100 to -1.3 kPa). The unit is small in size and lightweight, less than 1 lb. The standard bracket and integral panel nut allow for versatile installation options. A soft valve seat design provides tight shut off and eliminates leakage in steady state operation.
The Type 480V is ideal for any process requiring precise regulation of vacuum pressure. It is suitable for a wide range of applications which include Semiconductor manufacturing, Medical OEM, Mass Spectrometry, Pick & Place, and Leak Testing.
more